How to Track an iPhone Without Them Knowing for Free: A Comprehensive Guide
Ever wondered how to track someone else's iPhone without the person knowing? Typically, this used to be impossible. However, in today's digital world, you can pull it off effortlessly. The best part? You can do so remotely without being caught.
As a concerned parent, guardian, partner, or employee, it comes with a sense of duty to keep track of what your kids, spouse, or employees may be doing while on their smartphones.
In the world today, people are constantly harassed online and driven to suicide and depression. It is natural to want to keep a close eye on your loved ones to protect them from such. This can only be possible by secretly tracking their iPhones to see what they're up to.
In this article, we will explore the various ways to track someone's iPhone without them knowing.
Why Do You Need to Spy on Someone's iPhone?
There are several reasons why you'd want to track someone's iPhone. If you're a parent, it is your duty to monitor the online activity of your kids. Whether you like it or not, kids are constantly influenced by what they hear and see online.
While the Internet is a wonderful resource for knowledge and development, it is also a community for the vilest content kids are exposed to. Social vices like cyberbullying and sexual abuse are on the rise. More than 50% of teens are facing one form of abuse online. This can drive them to develop depression, or worse, become suicidal.
It is essential to always keep an eye on them, secretly track their iPhones, and view online activity.
Also, you may be noticing some slight differences in the behavior of your partner. Maybe these days, they return late from work or cancel a hangout without any logical explanation. It isn't out of place to think their current actions are suspicious. You may be having misgivings about your partner and even conclude that they may be cheating on you.
But don't put out the fire yet. One can never be too sure without concrete proof that they are actually cheating on someone else. You need to confirm your doubts by tracking their iPhone to monitor whom they're chatting with.
Every employer wants their business to thrive. One of the limiting factors to this is unproductive employees. Thus, you should monitor your workers to see what they're up, especially during work hours.
The Most Reliable Ways to Hack Someone's iPhone
There are several to track someone's iPhone location without the person knowing. We will be looking at the most reliable ways to do so without being caught.
mSpy — The Best App to Track Someone's iPhone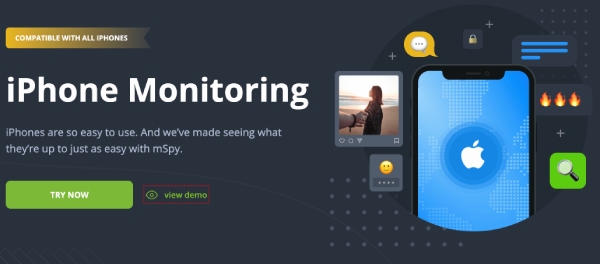 One of the best ways to track your friends' or loved one's iPhones without them knowing is by using the best spyware app — mSpy. This app is effective in monitoring and tracking someone's iPhone in a discreet manner without being caught.
mSpy is considered one of the most efficient apps to track a phone without them knowing, thanks to its 25+ unique features. It lets you track their incoming and outgoing phone calls, displaying details such as call duration, timestamps, and contact name. The app also gives you access to texts and iMessages sent and received by the target iPhone.
With mSpy, you can track the location of the person in real-time. You'd always know their whereabouts at any given time. You can also track messages sent from social media platforms such as WhatsApp, Tinder, Facebook, Snapchat, and many more.
Features of mSpy
mSpy is software that comes with over 25 advanced features. However, the following are the most widely used:
● Read sent and received text messages, including deleted ones.
● GPS tracking.
● Check web history.
● See media files stored on the device.
● Read messages from WhatsApp, Tinder, Snapchat, etc.
● Monitor incoming and outgoing phone calls.
● See installed apps.
● Read emails and check calendar activity.
How to Track Someone Else's iPhone Without Them Knowing with mSpy?
Tracking someone's iPhone using mSpy is very simple to try. All you have to do is:
Register with a valid email and subscribe to a mSpy subscription.
Follow the installation prompts sent to your email to set up mSpy on the target device.
Login to your Control Panel, enter your target's iCloud credentials and start monitoring the device.
Track Someone's iPhone Using Find My Friends App
Another way to track an iPhone without an app is by using the Find My Friends app. This isn't foolproof, but it works on iOS 9 – 12 devices. To get started:
Open the app on the target device and enable 'Share My Location' from the dropdown settings.
Enter the Control Center and activate Airdrop on your phone. Ensure that your device is discoverable. You can also select the 'Contacts Only' option.
Grab the target phone and click the 'Add' button and select your smartphone. You can select 'Share Indefinitely.'
Tap 'Accept' on your iPhone to receive the location. A pop-up will appear asking you to share your location. Click 'Don't Share.'
Click on the receiver's icon on your phone and view the location anywhere.
Track an iPhone Using Family Sharing
Another way you can track an iPhone for free without the person knowing is by using the Family Sharing feature. Here's how to do it:
Enter Settings on the phone and tap your name.
Pick 'Family Sharing' and activate 'Share My Location.'
Select the person's contact, and it will start sharing the location.
Locate iPhone With Google Timeline
No one wants to get caught in the act when they're spying. That said, if you'd like to retain your stealthy status while tracking an iPhone, consider using Google Timeline. With this software, you get a real-time GPS location of the target's device.
So, if you'd like to know whether or not your spouse is attending that meeting, this software is an excellent choice to use. Here's how you can track an iPhone seamlessly using Google Timeline:
Log in to the target's Google account.
Select the specific date you want to find out the target's location.
View the target's location history for that day.
And that's all. Following these steps to the latter ensures that you get that real-time location in no time!
Comparatively Free Way to Track iPhone With Phone Number — Detectico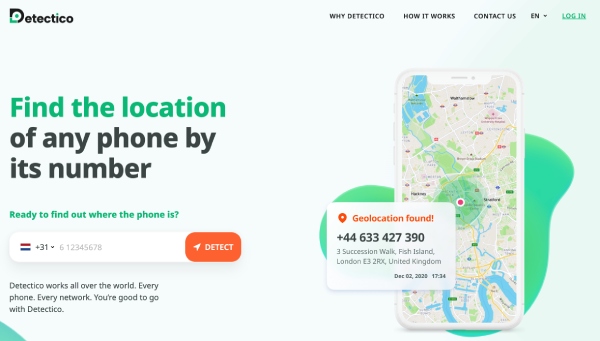 To spy with Detectico, all you need is the target's phone number. Since the website doesn't feature any smartphone caveat, you can track anyone regardless of what device they're using. Supporting all mobile phone operators, you can get real-time GPS tracking of any mobile number on the face of Earth. While this run-through might seem stellar, let's give you a hint of how this website works:
Enter the phone number you'd like to track in the blank field on the website.
The target receives a text informing them that you'd like to know their location.
Once they agree, you can see their whereabouts on the location card on the website.
While Detectico prides itself on being an efficient platform, it's not as stealthy as users would've liked. Before you can track a target, they have to accept your tracking request. So, if your request is declined, tracking a particular phone number is almost impossible.
Regardless, Detectico is an excellent option if you'd like to know your spouse and kids' location without getting apprehensive. If you're not ready to go the long haul yet, you can easily opt-in for a 3-day free trial for just €0,49. Are you looking to extend? A 1-month plan will set you back about $36.6.
SpyBubble — Reliable iPhone Tracking Solution
If you'd like to track an iPhone without getting caught, you'd have to choose solutions that are efficient and reliable. Spy apps come in handy as they accord users 100% stealth mode and remote surveillance: both ensuring that the target doesn't have a clue that they're being monitored.
Besides location tracking, specific add-ons enable you to view call logs, text messages, and social media activity.
One smartphone spy app currently living up to the billing is SpyBubble. With state-of-the-art surveillance solutions across multiple mobile platforms, SpyBubble is the spy app to try. This app comes with cost-effective subscription plans and a vast array of tracking features.
Using SpyBubble, you can monitor text messages, Instant Messaging platform chats (Facebook, WhatsApp, Viber), incoming and outgoing calls, and lots more.
What's fantastic for us is that the iPhone user won't have to go through the hassles of jailbreaking the target device. SpyBubble works uniformly across jailbroken and non-jailbroken iOS devices. So, if you're on the lookout for an "all-rounder," SpyBubble might be the perfect fit for all your spying needs.
FAQ
Is It Legal to Spy on Someone's iPhone?
There's a gray area when it comes to issues like this. If you're a parent, it is within your legal bounds to monitor your children's online activity.
What Type of iPhones Can iPhone Spy Apps Be Used On?
Spyware apps typically work on all types of iPhones, regardless of their versions. So, you can use it to track any iPhone.
Do iPhone Spy Apps Detectable on the Target Phone?
Impressive spyware apps like mSpy, when installed, cannot be detected by the target phone or the user. So, you can remotely track the person without being caught.
Final Thoughts
Although you can track an iPhone using several mediums like Google Timeline and Detectico or Family Sharing, these options aren't 100% reliable and efficient. Unlike spy apps, you don't get stealth mode and remote monitoring on these platforms. 
Using spy apps like mSpy or SpyBubble, you can track a mobile device or PC without the owner having an idea. Spy apps get you up to speed with every action taken on the target's smartphone.
If you want to track your lover's iPhone without getting caught, we'd recommend purchasing the spy app's subscription, as it's your best option to get the job done.