How to Track iPhone Without iCloud: Top 5 Ways
iPhone users understand the usefulness of the iCloud. It's a platform built into all iOS, iPad OS, and macOS devices to aid users synchronize and backup personal data like pictures, videos, emails, messages, contacts, calendars, notes, etcetera.
The introduction of the iCloud on the 12th October, 2011 is one of the many reasons why "Apple" has witnessed seismic revenue growth since its launch.
Besides the iCloud's storage and backup capabilities, it also comes in handy for location tracking. For context, you can easily find an iPhone's location through iCloud if you've already activated the "Find My" feature on the device.
Albeit a top-tier solution, several situations where you may not remember the logins to the lost iPhone or the "Find My" feature is disabled might crop up.
Here, you may look for ways to track an iPhone without iCloud. If you're searching for efficient solutions, you've just struck gold as this article covers the top 5 ways to find a lost iPhone without iCloud.
Ready? Let's go!
Way #1: Find Lost iPhone Without iCloud Via Google Maps
If you're looking for how to find a lost iPhone without find my iPhone, Google Maps is a viable option.
Google collects location data from all linked devices, including iPhones and places them on a map, making it accessible to anyone who wants the information.
However, this alternative only works if the iPhone has signed into a Google profile and has activated location history and reporting prior to the device going missing.
If the Google-linked iPhone gets lost, you could use the Google credentials attached to the device to monitor it without iCloud.
Here are steps you'd need to follow to get a hold of the missing iPhone's exact location:
Launch the Google Maps app on any device or visit the google.com/maps/timeline page on any browser.
Sign into the Google account on the iPhone you want to track. Then choose the present day at the top left section.
The next page displays a list of updated location history for the day. Find the latest one and click on it.
Afterward, a page showcasing the iPhone's location on a map will appear. If the iPhone is nearby, you can quickly get it. However, if it's stolen, you can contact the authorities to aid seamless retrieval.
This method is also efficient for those seeking to track someone's iPhone without iCloud. All you have to do is get the target's Gmail credentials and ensure "Google Maps" alongside location history is active.
To do this, follow these steps:
Go to Google Maps on your target's phone
Sign in to any Google account if you don't know the Google logins attached to your target's device.
Then, go to Settings and activate the location option.
Go back to Google Map's homepage and tap on Timeline. Click on Today to see the target's phone location history.
Way #2: Secretly Track an iPhone Without iCloud Via Third-Party Apps
Third-party applications can also answer your question on how to find my iPhone without iCloud. These apps are designed to mount full-fledged surveillance on any device.
Once installed on an iPhone, it works in 100% Stealth Mode (in the background) and gives off any necessary information about the phone's location and activities. These apps can come in handy when you want to track your children, spouse, employees or elderly relatives.
List of the Best Apps to Track iPhone Without iCloud
There's no shortage of third-party applications to track an iPhone without iCloud. Nonetheless, some apps are better than others in terms of functionality and general service.
Here are the best apps to track iPhones without iCloud:
mSpy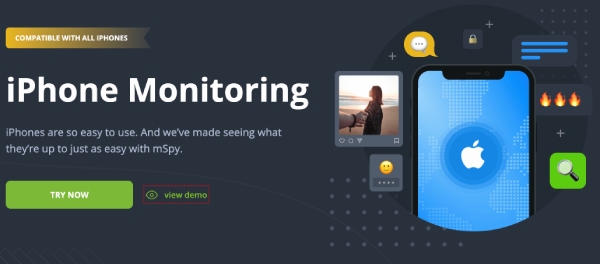 mSpy is one of the best third-party applications to track someone's iPhone without iCloud. This app makes you feel like a spy; only you wouldn't need to put on a black ski mask and pull crazy stunts to succeed.
With mSpy, you can monitor your target's iPhone data, including the phone's actual GPS location. mSpy also performs other functions such as social media tracking, SMS and calls monitoring, email tracking, etcetera.
The best part:
mSpy works without issues on all Apple cell phones.
The app's GPS tracking feature is also top-notch, as it gives you access to the smartphone's current location. mSpy also lets you track the route the phone has been through previously.
eyeZy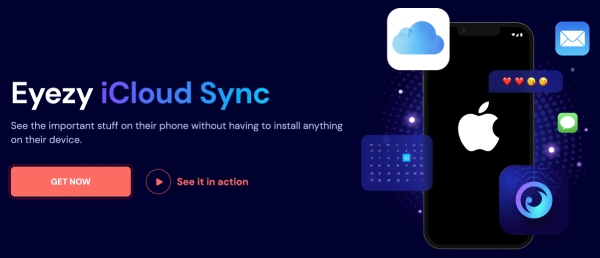 eyeZy is another excellent third-party app to track an iPhone without iCloud. Besides this application giving you 100% access to the precise location of an iPhone, you can also use it to track a target's multimedia files, social media activities, and web history.
With cost-effective pricing plans and fantastic features to make iPhone tracking easy and fun, the eyeZy app has something for everyone.
eyeZy is compatible with most iOS devices. However, if you're doubting its compatibility, head to the official site and input the iPhone model at the Compatibility section to see if it's perfect for eyeZy's top-tier tracking service.
MobiPast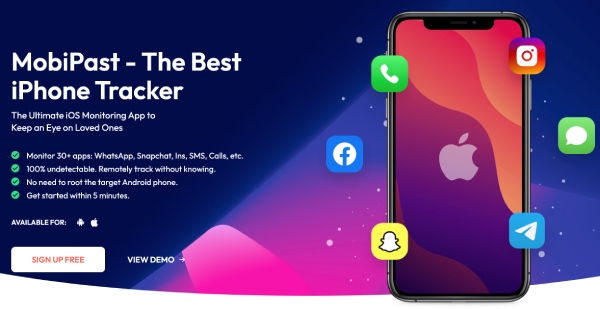 Another top app that comes into the picture whenever someone asks how to track a device without an iPhone ID is MobiPast.
This app can monitor all the activities of an iPhone, its location inclusive. MobiPast shows an iPhone's tracked location on a map, making it easy to trace.
Like other apps featured on this list, Mobipast also has other top-tier functions like SMS tracking, social media monitoring, and keystroke capturing.
The SpyBubble
Tracking an iPhone's location without iCloud is no easy feat. But SpyBubble makes this activity seamless.
This app can accurately track an iPhone or iOS device without hassles. Fielding multiple outstanding features at a competitive price, The SpyBubble ranks as "a jack of all spying trades."
The app's geofencing and alert feature are also useful in setting a perimeter for your target device and getting notified anytime they're outside the preset perimeter.
Detectico: Locate iPhone in 5 Minutes
Unlike the third-party apps in this article, Detectico isn't an app but a web service that efficiently tracks any iPhone's location.
Detectico lets you skip the hassles of installing an application on the target's phone. This tracking service only requires the device's phone number.
Another notable difference between Detectico and other tracking applications is that the former gives a one-time location of an iPhone. Conversely, the other third-party applications on our list keep you in sync with the GPS history of the tracked iPhone.
IMPORTANT: The legalities surrounding tracking apps differ from country to country. Speak to a tech attorney before using one in your region. That way, you know if the usage of these apps are legitimate or banned.
How to Track Someone's iPhone Without iCloud via Tracking Apps
Tracking someone's iPhone without iCloud via tracking apps is simple if you follow these steps:
Create an Account
The first thing you'd need to do is create an account. Using mSpy for context, visit their official site and click "Try Now" to kick-start the registration process.
Pick a Subscription Plan
People have different needs and budgets. mSpy knows this and has curated 3 subscriptions to tally individuals' needs.
So, pick a package that meets your tracking goals and make a payment accordingly.
Get the Installation Instructions and Start Tracking
After paying for the subscription, mSpy will forward an installation instruction to the email you provided. Follow these instructions to install the app. Afterwards, log into your dashboard to start tracking.
NOTE: The iPhone's installation process may vary due to whether the target iPhone is jailbroken or not.
Way #3: Track an iPhone With Find My
All iPhones come with a pre-installed application called Find My iPhone. This solution answers the "how to find my iPhone without an apple ID?" query with aplomb.
What is Apple Find My?
Apple Find My is a pre-installed iOS service that allows users to track the location of their devices whenever it goes missing.
How to Use Find My on an iPhone?
To use Find My to accurately monitor the GPS location of any iPhone, follow these steps:
Open the Find My app on any iPhone. Using your Apple credentials, log into your account
Scroll to the tailend and click "My Devices."
You should see a list of iPhones linked to your Apple account (ID).
Once you see the device you'd like to monitor, click on it.
This action should see you encounter different options — Erase This Device, Directions, Mark as Lost, Notify When Found, and Play Sound.
Tap on "Directions" to access the iPhone's real-time location.
Way #4: Track an iPhone Without Apple ID Password Via IMEI
The IMEI method is an excellent way to find my iPhone without apple ID. iPhones have a unique 15-digit code called the IMEI number.
You can access this number by dialling *#06# on the iPhone's dialer. Since this number cannot be altered or changed, you can track an iPhone without iCloud even if it is powered off or has had its SIM card swapped.
You can use different alternatives to monitor an iPhone through its IMEI number.
However, two routes stand out:
The first is through your network provider and the other is through IMEI tracker iPhone sites that enable users to track iPhones through IMEI.
Way #5: How to Find a Dead iPhone Without Find My iPhone
If you're looking for how to find your iPhone when it's dead, the "Find My iPhone" app has one of the most smooth sailing routes.
On an active iPhone, it uses wireless connections like WiFi, and Bluetooth to give you context on the device's exact location.
It can also get you in sync with the iPhone's last known if it's dead. This information is vital when an iPhone is misplaced and not stolen.
How to Find a Dead iPhone Without iCloud
You can use various methods to get the last location of an iPhone. We've listed one method. The other route is through a computer.
To locate a dead iPhone with a PC, follow these steps:
Launch a Web browser on your PC and go to the iCloud web page
Check if your iCloud account is logged in. Log in if it isn't.
Click on the Find My iPhone tab. Now, tap on "All Devices."
Select the name of the device you want to track
A map will display the last location of your device. Head to this area to check if your iPhone is available.
Conclusion
We've discussed the various ways to track an iPhone without iCloud. From the methods we've listed above, it's clear we're in the jet age — an era of "continuous technological development."
If you want a less strenuous yet efficient method, you'd want to engage third-party applications like mSpy. This service tracks iPhones discreetly and effectively.
Good luck in your iPhone tracking adventures!