How to Remotely Access Android Phone Without Knowing
Have you ever wondered how to remotely access Android phone without knowing? Perhaps the idea crossed your mind while you watched your partner texting on his phone. Or your kids refused to show you what's on their devices.
The truth is that no one wants their phone to be accessed without their consent. Actually, 30% of smartphone users are worried about their data privacy, as reported by Statista. That's why most of them will never approve your request.
So, what's the solution? Our method of accessing Android phones remotely without permission! This guide will help you understand how to use a reliable mobile app to do it. Keep reading and find out more!
How to Remotely Access Android Phone Secretly
Looking for the easiest way how to remotely control an Android phone? Look no further than mSpy! 1.5 million users have chosen this powerful app since mSpy offers over 35 tools to access Android smartphones and tablets remotely. The best part is that you can start using it right away, and we'll show you how.
Get mSpy Subscription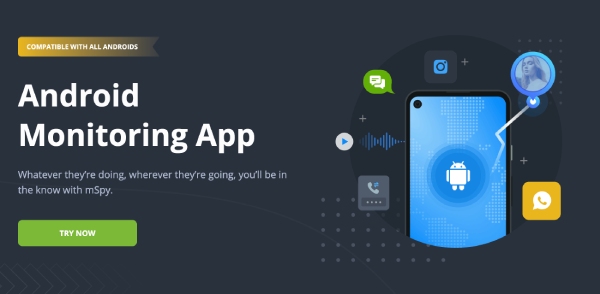 mSpy relies on a web-based algorithm, allowing you to control a target device from any web browser. Thus, you have to activate your subscription for the app to work.
Create an account with mSpy
Go to the official website mspy.com and sign up for an account. Enter a valid address to get detailed instructions on how to remotely control an Android phone. Remember to tick the box agreeing to the terms of Use and Privacy Policy.
Choose the type of device you want to monitor
mSpy offers Android and iOS monitoring options.
Select a package
You can pick a monthly, quarterly, or yearly subscription plan, depending on your needs.
Consider rooting or jailbreaking the target device if you want to get advanced monitoring tools.
Finalize your purchase
Now add your subscription package to the cart and pay for it. After payment confirmation, check your mailbox for the welcome letter with the download link, username, and password. You'll need them to complete the installation.
Disable Play Protect
Android phones decline software installation from unknown sources. To bypass this security measure and remotely control Android phone from another phone, you need to disable the Play Protect feature on your target device.
1. Open the "Play Store" app.
2. Type your profile icon in the top right corner.
3. Select "Play protect" (shield icon) from the menu.
4. Choose "Settings" in the top right corner.
5. Toggle off the "Scan apps with Play Protect" option.
Download mSpy Installer
Here's how to do it:
1. Open an Internet browser on a target device.
2. Past the download link into the address bar.
3. Confirm the download of the app.
4. Check the download manager to confirm that mSpy was successfully downloaded.
Install mSpy
Once you have downloaded mSpy apk file, you can now install it:
1. Open apk file and allow access to a device's resources.
2. Type in the Registration Code you've received from mSpy wizard.
3. Complete the process.
That's it! Now it's time to remotely control Android phone from another phone without permission. Simply log in with the username and password provided in the welcome letter.
There you can start monitoring your target device. mSpy offers multiple tracking solutions for Android phones, and the most popular ones are:
Social media spy: read chats, view friend lists, and monitor multimedia files
GPS location tracker: track phone's movements and view locations visited
Calls & SMS scanner: see lists of incoming and outgoing calls/message
Internet activity monitor: view browser history and bookmarks
Keylogger: record every keystroke made on the phone
How Android Phone Remote Control Can Be Used?
Have you already installed the Android phone remote control app? If so, congratulations! You've opened endless possibilities for monitoring the activities of your close ones or employees. We'll go over several benefits of remote tracking to give you some insights about how you can take advantage of this powerful feature.
Control An Android Device Remotely For Personal Life
Social media have taken cheating to the next level. Now you don't have to leave your house to do some suspicious activities — everything can be done from the comfort of a couch. And if you believe that your partner's late-night chats have nothing in common with online flirting, think twice: 34% of Americans found evidence of infidelity on their partner's phones.
However, you won't stay in the dark with remote access Android without permission — mSpy uploads their call logs, chats, browser history, and even GPS location to your Control Panel. You can access the data anytime you need it from any Internet-connected device, whether a phone, tablet, or PC. This way, you are one step ahead of your partner's online presence and can spot the first signs of betrayal.
Control Android Device Remotely For Parental Control
These days, many parents choose to take their kids' phones as a form of discipline and control. However, family therapists warn against this approach as it can be damaging and ineffective. Dr. Beth Peters, a clinical psychologist from Westminster, says that phones are essential for teens to stay connected with their peers, and disconnecting them will only damage the parent-child relationship.
Thus, remote access Android from iPhone offers a smart parenting solution that benefits parents and children. By accessing your kids' data remotely, you can ensure their safety without being overly intrusive. With mSpy, you can easily check your kid's social media activity, locations, and app usage.
Additionally, the blacklist feature allows you to block any potentially dangerous apps and websites quickly.
Get Remote Access To Android Phone For Business
Data exfiltration is a significant concern among businesses in the USA. Unfortunately, in many cases, the data security breach is caused by employees themselves. According to research by Cyberhaven, 10% of employees transfer sensitive information. Therefore, a reliable Android phone remote control solution like mSpy ensures employees do not risk your business.
Another common issue businesses face today is employee phone misuse. The Digital Distraction and Workplace Safety Survey findings show that employees use their phones for non-work for more than 2 hours daily! By tracking phone activity with mSpy, businesses can maintain a productive and secure work environment.
Conclusion
Remote access to Android phone is possible with the right tools and a little know-how. With our detailed step-by-step guide, you can quickly install mSpy on anyone's Android phone and monitor your close ones without their knowledge. Additionally, you can use the spy application to protect your business from insider risks, reduce employee phone misuse, and improve workplace safety. Try out mSpy today risk-free with a 14-day money-back guarantee!