How Can I Find Out Who My Husband Is Texting for Free: Try Top 5 Tools
Many of us hope for a "happily ever after," but the truth is, most couples face bumps in the road. About half of American couples have checked each other's phones, and 30% have found flirtatious texts. If you suspect your husband is cheating, we have some tips on how to see who my husband is texting and calling discreetly and for free. Our guide includes the best phone monitoring apps available and instructions on using them.
How Can I See My Husband's Text Messages Without His Phone for Free?
When it comes to catching a glimpse of your spouse's text messages, the impulse is often to Google "free methods." But let's face it, most of these methods are scams or ineffective.
The best and most reliable way how can I see my husband's text messages without his phone for free is by using a verified method – a phone monitoring app. It's a sneaky software application that can track and monitor the activities of a target phone in the background, completely invisible to the target user.
We'll review the top 5 monitoring apps for monitoring your husband's text messages. For those wary about the price, worry not! Most apps come with free trials and/or refund policies, allowing you to try them at no cost.
How To Check My Husband's Text Messages with mSpy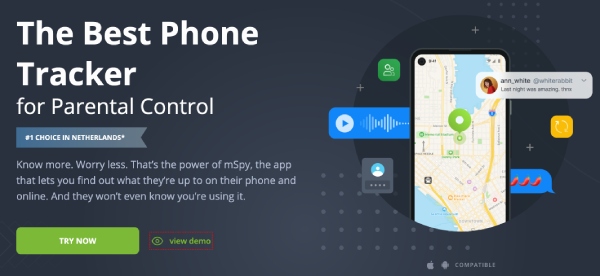 Navigating the sea of options to find the perfect app to see who your spouse is texting can be overwhelming. Our top pick? mSpy. Designed for you to view SMS messages on your cheating husband's device, it's compatible with all major operating systems and remains hidden from the target device. No suspicions, no worries – you can uncover the truth today.
Key Features of mSpy
mSpy stands out from the crowd with 36 + features and discreetness. Let's look what you can do with key (that's why we called it key) features of mSpy
View the full content of messages. Incoming? Outgoing? For mSpy, it doesn't really matter. You can view all messages in a chat-like format. Discover who is he texting late at night or early in the morning.
Recover deleted messages. Did he erase the messages before you read them? Don't worry. With mSpy, you can recover deleted messages to find out what was up to.
See who he talks to. Check out your husband's contact list, get details on each person he is texting, and find out if someone from his contact list is suspicious.
Get the attachments. If he shares multimedia messages, view them on your mSpy account, including photos, videos, and other attachments.
Monitor social media activity. If you believe he chats outside his default texting app, you get your husband's text messages on social networks and messengers. This includes private chats, hidden friends and groups, etc.
Track his locations. If you want to make sure he is where he says he will be, mSpy location tracking has got your back. See his current and past whereabouts with ease.
Monitor Internet activity. Get a log of all the websites your husband visits so that you can make sure he isn't registered on any dating services
Quick installation.With mSpy, there's no need for rooting or jailbreaking, and setting it up is a breeze – taking only a few minutes.
Other features. Include here any other features of mSpy that you think will be useful for how can I spy on my husbands text messages – like keylogger and screen recorder.
How to Find Out Who Your Husband is Texting in Steps
It's time to uncover who is my husband texting! Let's go through the process of installing and using mSpy together. Here are the steps you need to take:
Step 1. Sign up for mSpy
Go to the mSpy website and create an account using your email address.
Step 2. Choose a device & download mSpy
Choose the device you want to monitor, Android or IOS, and download the mSpy.
Step 3. Choose your plan
Choose a subscription plan that suits your needs.
Step 4. Start monitoring your target's phone
Enter your mSpy account from any Internet-connected device and read my husbands text messages online by clicking the "Messages" button.
See Who My Husband is Texting and Calling Using Eyezy
If you're looking for a powerful, user-friendly app to see who your spouse is texting for free look no further than Eyezy. While mSpy is a popular choice, Eyezy offers some unique advantages that make it a strong alternative.
Eyezy's standout feature is its powerful social media tracking capabilities. With this app, you can easily monitor your husband's activity on WhatsApp, Facebook, and Instagram. Stay on top of everything he's up to, from secret messaging and calls to photo sharing!
Eyezy also has some smart tools that make it even more effective. For example, the app includes a notification system that alerts you whenever your husband receives a new SMS message or makes a call. Additionally, the app's intuitive interface makes it easy to check my husband's text messages, even if you're not particularly tech-savvy.
Read My Husband's Text Messages Without Touching His Phone with Spybubble
Designed specifically to track unfaithful spouses, SpyBubble has everything you need to read my husbands text messages without touching his phone.
SpyBubble has a basic set of features that can come in handy when you want to monitor husband's SMS messages, calls, and instant messengers. Using this app, you can easily find out who he's texting, when he's doing it, and what they're talking about.
SpyBubble isn't your average tracking app. You can even explore your hubby's gallery and download photos and videos, including those in his conversations! Think he's sending or receiving inappropriate media? Or just curious about his daily routine? This tool has got you covered!
Spy on Your Husband's Text Messages Using Pumpic
Pumpic was designed to provide parents with peace of mind but hey! it can also help you to see husbands text messages. With this app, you have all the features you need to monitor your husband's text messages and beyond.
With Pumpic, you can effortlessly read SMS messages and view your husband's contact list from afar. And to stay in the loop, track his live GPS location anytime to verify his whereabouts.
But Pumpic goes beyond basic tracking features. This app packs a powerful internet tracking system that lets you see every visited site, including the naughty ones (ahem, dating sites!) and even the apps he's using.
Get Your Husband's Text Messages With MobiPast
How can I see what my husband is doing on his phone for free? Consider Mobipast! It's a new-generation tracking app worth checking out! It can analyze your husband's activity patterns and help you uncover whatever's going on.
Mobipast lets you unlock secret insights about his life: what he's texting, his top contacts, frequented apps and sites, and recently visited locations with accurate addresses and coordinates – all in chronological order. And that's just the beginning – it also works like a classic tracking app, displaying messages, calls, photos, and more.
What Is the Best Solution to See Who Your Spouse Is Texting for Free
If you're looking to uncover the truth about your husband's activities, it can be challenging to decide which app is the best. That's why we've put together this comparison chart to help you find the best solution on how to see who my husband is texting without his phone.
| | | | | | |
| --- | --- | --- | --- | --- | --- |
| Name | Standout Features | Compatibility | Price | Refund Policy | Rating |
| mSpy⭐️ | View full content of messages, recover deleted messages | iOS, Android | $9.92/month | 14-Day Money Back Guarantee | 4.98 |
| Eyezy | Powerful tracking of social media chats, smart alert tools | iOS, Android | $9.99/month | 14-Day Money Back Guarantee | 4.90 |
| Spybubble | Download photos and videos from chats apps | iOS, Android | $9.99/month | 14-Day Money Back Guarantee | 4.85 |
FAQ
How can I see my husband's text messages without his phone?
The best way to do this is by using a monitoring app, such as mSpy, Eyezy, SpyBubble, Pumpic, or MobiPast. These apps allow you to track text messages remotely and discreetly.
What app can I use to see who my husband is texting for free?
While there are some free apps out there that claim to do this, most of them are scams. It's better to use a verified app to see who your spouse is texting, like mSpy or Eyezy, both of which offer a free trial period so you can test the software before purchasing.
How can I read my husband's deleted text messages?
Many tracking apps, such as mSpy, have a keylogger feature that can recover deleted messages or ​​passwords. You can simply install the app on his phone, and it will record all of his keystrokes, including deleted texts. 
Conclusion
If you're worried about who is my husband texting and want to find out for yourself, using a monitoring app is the best way to do it. We've gone over some of the best apps on the market, each with its own unique features and advantages.
Whether you choose mSpy, Eyezy, SpyBubble, Pumpic, or MobiPast, you'll be able to discreetly and remotely monitor your husband's text messages, calls, and even his online activity. So don't wait any longer. Try out one of these apps and get the answers you're looking for today.